September 24, 1997 — The first visible signs of redevelopment came to Old Town Newhall in September 1997 with the groundbreaking and initial construction of improvements to Railroad Avenue. At the time, Railroad Avenue was just a short connector that ran from San Fernando Road south of 4th Street to San Fernando Road at Lyons Avenue. (Prior to the 1994 earthquake, it didn't even connect; it had been barricaded at Lyons for several years.)
The groundbreaking ceremony was held at the southeast corner of Railroad Avenue and Market Street where a parking lot would be constructed. Historically, a warehouse stood on the site; it burned down in the 1960s(?). The construction work seen here is at 11th Street.
Old Town Newhall redevelopment formally started July 8, 1997, when the Santa Clarita City Council (Clyde Smyth, mayor; Jan Heidt, Jo Anne Darcy, Carl Boyer, Jill Klajic) adopted the initial redevelopment plan. On that date the council also awarded a $1,941,691 construction contract to Gueno Development Co. Inc. of Los Angeles to make the improvements to Railroad Avenue betweeen 4th and 11th streets. The contract called for Railroad Avenue to be widened to 85 feet to accomodate two traffic lanes (one in each direction) with a two-way left turn lane, parking on both sides of the street, and curbs, gutters and sidewalks.
The improvements were paid for with state and federal funds from the Economic Development Administration and Community Development Block Grant program. At the same time (July 1997) the council authorized $375,000 to engineer and purchase old-fashioned, Victorian-looking street lights for the southerly portion of Railroad Avenue.
San Fernando Road was still a 40-mph state highway — State Route 126. From the south, San Fernando Road carried commuter and truck traffic from the 14 Freeway north through the heart of downtown Newhall (former Spruce Street), then jogged and continued north, connecting with Bouquet Canyon Road at Magic Mountain Parkway. (From that point, the SR-126 designation followed Magic Mountain Parkway.)
These Railroad Avenue improvements paved the way for the erection of the city's third Metrolink station at the northeast corner of Market and Railroad, where — by sheer coincidence — the Southern Pacific's Newhall depot stood in historic times. It, too, burned down. Most recently, the property was home to Newhall Hardware's Garden Center. The Metrolink station was a separate project that started construction one year later, on September 18, 1998, with funding from the Metropolitan Transportation Authority.
Wanting to slow down traffic and transform downtown Newhall into a pedestrian-friendly environment, the city persuaded the state in 2001 to relinquish the SR-126 designation within city limits, via legislation by then-Assemblyman George Runner. More changes were to come.
---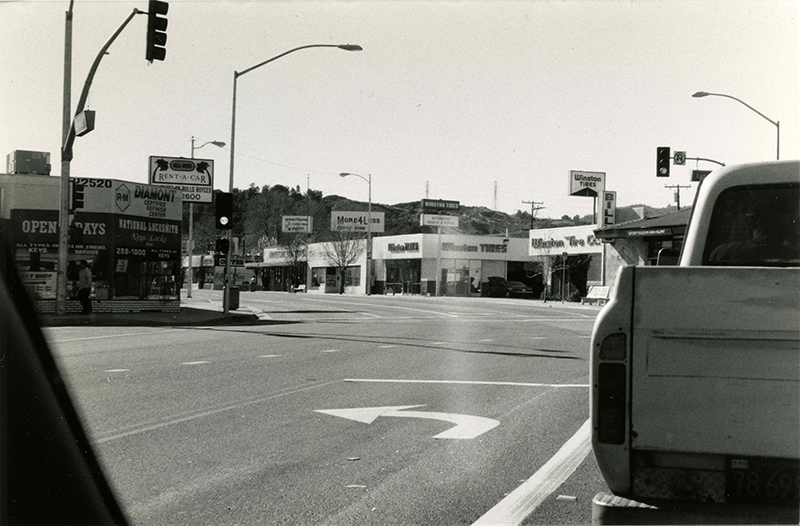 Above: San Fernando Road curved at Lyons (view to the south). Below: Pedestrians took their lives in their hands to cross the highway.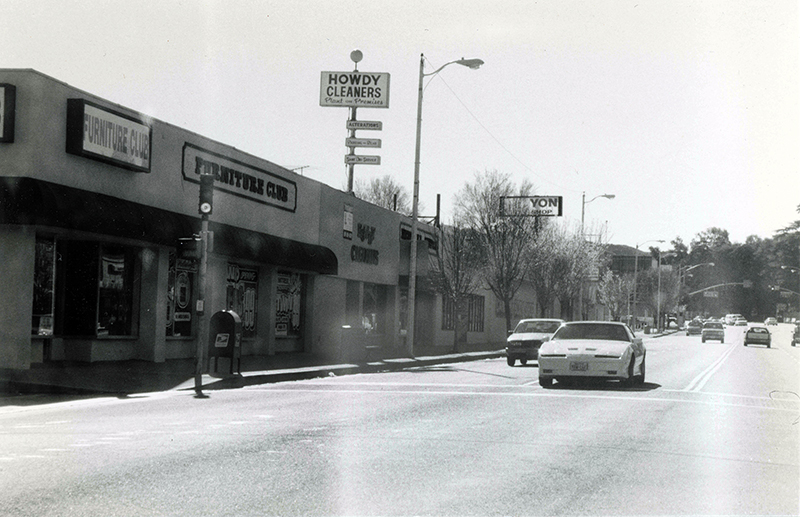 LW3136: Download original images
here
.